University of Twente embraces OER: A commitment to uniform education and student engagement
School type
Technical University
At University of Twente (UT), the math department is in charge of constructing and streamlining math education. In search of a more 'standardized quality', the team turned towards an online practice platform based on open education. By using Grasple, UT is now able to find, create and share high-quality exercises. The results? More flexibility, educational freedom, and students that are more engaged with the actual subject. "We've only just started using Grasple, but it's already proven to be very valuable."


An introduction to the University of Twente
University of Twente (UT) is a leading Dutch university for technical and social sciences in Enschede, The Netherlands. With roughly 11.000 students, The University holds five faculties, including Engineering Technology and Electrical Engineering, Mathematics and Computer Sciences. To shape their education, UT collaborates with Delft University of Technology (TUDelft), Eindhoven University of Technology, and the Wageningen University and Research Centre. In 2017, UT was ranked 65th in the Reuter's European Most Innovative Universities. Worldwide, UT ranked 82nth in the field of Engineering and Technology and 61 in the field of Computer Science.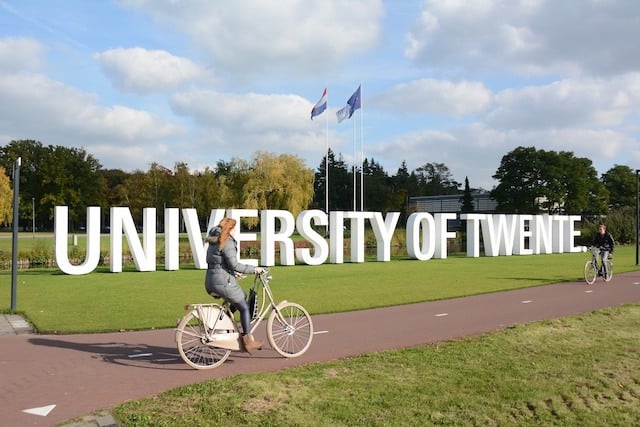 UT's goal: Uniform and consistent math education to all technical courses
Every year, 2.700 students receive math and statistics-focused education at UT. To provide these students with the best education possible, UT organizes their math and statistics education with the support of a dedicated group of professors, lecturers, and educational advisors. Steffen Posthuma is one of their members. He has years of experience in putting together high-quality math education. Together with his team, Posthuma coordinates course set-up and covers subjects at UT. The goal? Offering uniform and consistent mathematics education to all technical courses at UT.
"This is a delicate balance," Posthuma explains. "In the past, each study program had its own mathematics courses, covering different subjects and following different orders. This resulted in different knowledge levels for our students, so we wanted to regulate the quality of our education by offering standardized courses and subjects."


In need of a solution that empowers collaboration and enables flexible assessment
For this, Posthuma and his math line colleagues use educational software. Over the years, UT experimented with many different publishers and editors, and while used software met most of their requirements, features and functionalities limited the team's progress. "We've used several editors at UT, but the options were often limited. For example, most editors don't allow you to parameterize and claim the rights for exercises were reserved. The editors we used were also quite complicated, meaning teachers and student assistants couldn't create exercises and courses themselves."
This limited UT's math line in creating standardized courses, but also resulted in a lot of work for Posthuma, as he was the only one in the team who could edit the exercises. When the team wanted to start with remote assessments and summative testing, this was a major bottleneck, and the team agreed it was time for a change.
In 2020, UT's math line decided to turn to Open Education and use openly licensed exercises and courses for their math education. As a part of this transition, they also decided to switch to new editing software. Their search ended at Grasple. "Grasple offered us pretty much all the features we need, including summative testing and remote assessment. Also, we really liked the fact that Grasple is all about open education: there are hundreds of exercises available, created by renowned institutions, and they are free for us to adapt and improve – this really aligns with our educational vision. So, flexibility and educational freedom were two main reasons for us to decide on switching to Grasple."


Co-create exercises and share knowledge with other universities
For UT, the biggest benefit of working with creative commons is that the University can now create and share exercises with other educational institutions. "We've only just started with Grasple and are still at the beginning of our learning curve. So, it's very valuable that we can use material coming from other renowned institutions." UT currently uses learning material created by TUDelft, another technical university in The Netherlands. "TUDelft has high educational standards, and the fact that we know this learning material comes from them, means we're assured of the quality." The team also hopes to create more original learning material themselves, so they can contribute to the repository of open content available in Grasple.
"The editors we used before prevented us from adapting exercises for our courses. Open education allows us to find, adjust and share learning materials. The fact that in Grasple all exercises are created by renowned organizations, assures us that the materials are all high quality."

– Steffen Posthuma - University of Twente
Shared workload and more engaged students
What about the workload? According to Posthuma, this has considerably decreased since using Grasple. Instead of all the work being his responsibility, Posthuma and his colleagues now collectively use Grasple to create courses and interactive exercises for their students:
"Sure, we needed some time to get to know the system. But getting started with Grasple was very easy, as it has a large, curated collection of learning materials. We didn't have to create exercises from scratch. Grasple is also very accessible, and it has an intuitive editor, meaning math professors and student assistants can also easily find and edit learning material for their students. Finally, I'm no longer the only one who knows how to create exercises."
Students are also happy with Grasple. The platform is very user-friendly and practicing exercises really helps them prepare for class. "We've noticed that students come to us with questions about subjects covered in Grasple. This is a very valuable result for us because we see students are really engaging with their courses. For educators, that's a huge win." Steffen Posthuma concludes.
UT has been using Grasple since early 2020. They currently collaborate on creating exercises with TUDelft.

Want to see the exercises Posthuma is talking about yourself? Click the button below, check out the exercises and start working with them today by trying the user-friendly editor in the Teacher Demo.