Open education for the benefit of students
The 2023 edition of the Grasple Teacher Day saw a successful and inspiring gathering of teachers with the shared passion to contribute to an accessible future of education through open education.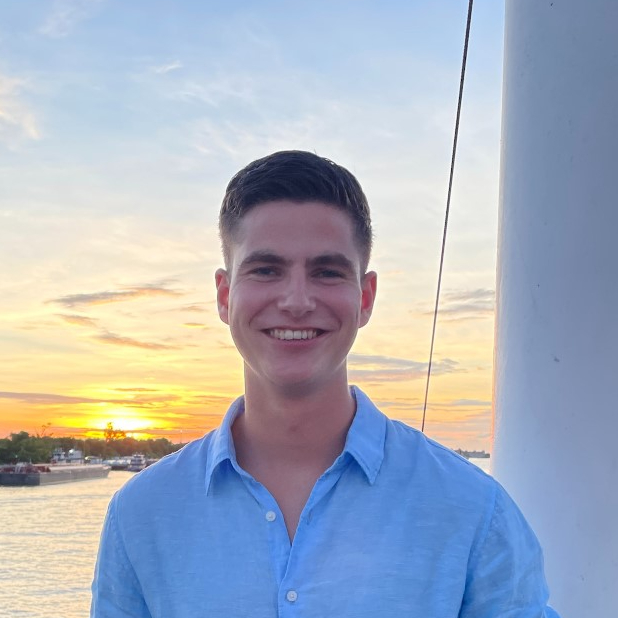 by Tycho de Haas
Customer Support
On June 20th, educators from various higher education institutions in the Netherlands gathered at the CommandantsWoning (COWO) in Amsterdam for our 2023 edition of the Grasple Teacher Day. After two years of online events we were glad we were finally able to host a live event again. The event provided a platform for passionate educators to explore the realm of Open Education and Open Educational Resources (OER) while focusing on the ultimate goal of enhancing student learning experiences.
The overarching theme of the day, "Open Education for the benefit of students," set the stage for a day filled with thought-provoking discussions and practical insights featuring two inspiring presentations and an interactive workshop followed by a lively discussion led by Grasple's CEO, Elisabeth.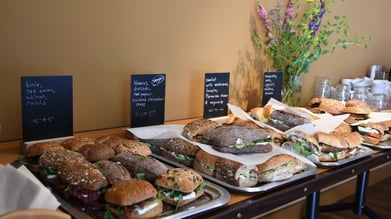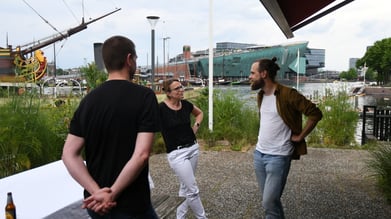 After a delicious joint lunch, during which several inspirational conversations between educators were already in full flow, it was time to kick off the program with the first speaker of the day, Robert Schuwer and his captivating talk on Open Pedagogy.
From Substitution to Redefinition: The Transformative Potential of OER and Open Pedagogy
Starting off his talk by introducing the SAMR model, a framework illustrating the impact of technology on student learning from simple substitution to transformative redefinition (see picture below), Robert highlighted the power of technology and OER to revolutionize teaching and learning experiences.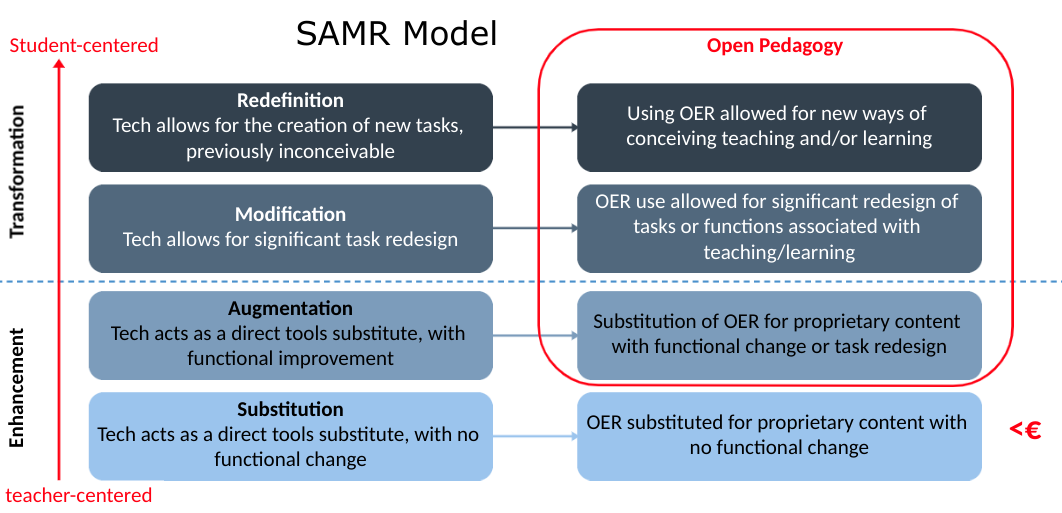 Schuwer, R. (2023). Education with OER: from Substitution to Redefinition. https://robertschuwer.nl/download/slides/20230620/oersamr.pptx
In his talk, Robert also shed light on Open Educational Practices (OEP), emphasizing their role in supporting the use and creation of OER, innovative pedagogical models, and empowering learners. The audience gained valuable insights into the principles of open pedagogy, including the importance of collaboration, knowledge sharing, open licensing, and inclusivity.
The value of open pedagogy for students became even more evident as Robert explored its core characteristics: adding value by providing openly accessible resources, fostering collaboration in open networks, encouraging the creation and sharing of knowledge, utilizing open licenses and OER, and promoting accessibility and inclusivity.


Furthermore, Robert touched on the exciting intersection of Open Pedagogy and General Education with Artificial Intelligence (GEN-AI), envisioning how student-centered aspects of GEN-AI can contribute to and enhance open educational practices.
A key takeaway from Robert's talk was the significance of developing skills to actively participate in OEP and open pedagogy. Educators were encouraged to familiarize themselves with OER, master the art of searching for relevant resources, leverage OER effectively in their teaching, create their own OER, and share their valuable resources with the education community.
If you are interested in Robert's talk on Open Pedagogy you can find the link to the slides on his website
Empowering Students through Open Inter-Institutional Collaboration and Innovative Tools (ShareStats)
The day continued with Marleen de Moor taking the stage to present an example of an innovative inter institutional collaboration for the benefit of the student: the ShareStats project. Its relevance roots in the prevalent issue of math and statistics anxiety among students, with 70-75% of students experiencing this kind of anxiety.

Marleen also emphasized the importance of equal opportunities for all learners to excel in statistics education, partly by touching on the point of paid supplementary education. Results of her own research showed that among participants (students) 33% indicated they follow supplementary education, mostly for methods and statistics courses. Often, these paid supplementary courses/exam trainings are not cheap, meaning not all students are able to participate, creating inequality. ShareStats aims to address this challenge by promoting open education through the sharing of resources, collaboration among educators, and the development of online tools.
Besides sharing the project's purpose, Marleen in turn shared some of the project's achievements. Including the creation of an open and freely accessible item bank of over 4,000 statistics exercises with a functional taxonomy and ways to export these exercises to a number of different tools (including Grasple!), as the exercises are all written in the same open format (Rmarkdown). This extensive resource empowers teachers and students alike to access high-quality materials, foster collaboration, and personalize statistics education.
You can start using the items in the ShareStats item bank yourself by going to their website https://www.sharestats.nl.
!! Exciting note: the entire ShareStats item bank will be imported to Grasple soon !!
Unlocking Personalized Learning: Exploring Adaptive Learning and Open Education through KC Graphs
After a break, that invited attendants to a quick tour through the Grasple office, it was time for the workshop and concluding discussion led by Elisabeth.
The workshop focused on ways to combine adaptive learning with open education and how these concepts can help shape the future of education. Grasple's interpretation of these concepts expresses itself in Knowledge Component (KC) Graphs, which are graphs that provide both teachers and students with insights on a student's estimated mastery of certain knowledge components.

The divided groups explored the possibilities of constructing their own KC Graphs, fostering personalized education while maintaining autonomy. Participants discussed the potential benefits for students, such as improved engagement, personalized learning paths, and enhanced question design based on student performance data.

Groups were also asked different questions regarding the possibilities and risks of different applications of adaptive learning (KC graphs in particular).
One group rightfully pointed out that course specific KC graphs contribute to a more personalized learning experience and that the visualization of the connections between and within different topics could positively influence the students' learning experience and outcomes while at the same time indirectly helping teachers improve their teaching materials, by building on the insights gained by the student performance data linked to these kinds of adaptive learning tools.

However, the workshop did not only address the opportunities, but also potential risks of these adaptive learning practices, KC graphs in particular. One group noted that it is important to prevent confusion for students. Students should not get lost in understanding all the nodes and details of a concept that is supposed to help them learn better. The risk of over-gamification also came to light, highlighting the possibility that in some cases students might focus too much on the "game" instead of the actual content they are supposed to learn.
Learn more about Grasple's vision of the combination of adaptive learning and open education in our blog.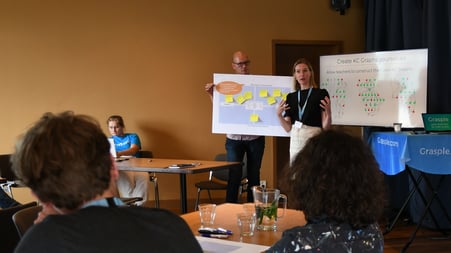 After a final wrap up of the program the Teacher Day was rounded up by the opportunity to network, have some drinks and further discuss the learnings of the day. At the end of the day, attendees left with a renewed commitment to open education, armed with practical insights and a community of educators dedicated to empowering students.
We once again want to thank all attendees and the Grasple team for making the 2023 edition of the Teacher Day a great success, and we hope to see you all next year!
---
Has reading this article made you curious and excited about Open Education and perhaps Grasple? Make sure you don't miss out on our next edition(s) of the Teacher Day and sign up to the newsletter now to stay up to date!